De HEAL YOUR LIFE® TEACHER TRAINING ontwikkeld door Louise L. Hay, biedt je de mogelijkheid om een internationaal gelicentieerd Teacher te worden. Tijdens deze training leer je om anderen te helpen in hun groeiproces...
We zijn trots te kunnen aankondigen dat deze training de enige Nederlandstalige Teacher Training is die goedgekeurd wordt door Louise L. Hay, Hay House Inc. en Heart Inspired Presentations LLC.
Link naar internationale website
Breng een geweldige week van je leven door met een prachtige groep mensen die zich willen inzetten om positieve veranderingen in hun leven, het leven van de ander maar ook in de wereld te willen brengen! Deze residentiële training biedt jou het ideale kader hiervoor.
Je leert de originele methoden van Louise Hay, waarmee zij een internationale autoriteit werd op vlak van persoonlijke groei. Je krijgt de programma's en materialen die je nodig hebt voor het leiden van jouw eigen internationaal erkende workshops.
We zouden blij zijn als je zou kiezen voor de Heal Your Life® Teacher Training als de volgende stap in je persoonlijke en professionele ontwikkeling en we kijken graag uit om je in oktober te mogen verwelkomen in de training.
Voor meer informatie: Link naar de BENELUX website
Wat zeggen anderen ...

Lees wat anderen zeggen over de Heal Your Life Teacher Opleiding van Louise Hay
Andere Teachers getuigen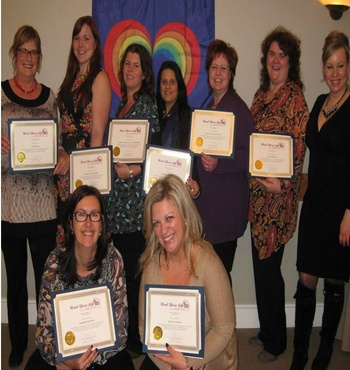 Ben je op zoek naar een nieuwe baan of wil jij een nieuwe wending in jouw carriere?
Ben je al coach of therapeut en zoek je een aanvullende methode om jouw klanten te helpen?
Ben je het beu jouw eigen trainingen en workshops zelf samen te stellen?
Wil jij jouw eigen groeiproces meer diepgang geven?
Wil jij een magische week meemaken?
Dan schrijf je snel in en word één van de internationaal erkende Heal Your Life Teachers van Louise Hay.